Setting the standard for wheel loader productivity, durability, versatility and comfort.The Cat® 938K Wheel Loader sets a new standard for productivity, fuel efficiency and comfort. Extremely low sound levels, large spacious cab and intuitive controls keep you working comfortably all day long. The new optimized Z-bar loader linkage delivers the performance and breakout forces of a traditional Z-bar linkage with the parallelism and load handling capability of a tool carrier. Experience the new industry benchmark.
Standard Equipment
Optional Equipment
Specs
Features
Media
Standard Equipment
POWER TRAIN

Axle seal guards
Auto idle shut down feature
Brake/decelerator pedal
Cat C6.6 ACERT™ engine
Coolant protection to -34° C (-29° F)
Differential lock in front axle
Differential rear open
Dry type air cleaner
Enclosed wet disc full hydraulic brakes
Fuel priming pump, automatic
Fuel water separator
Hydraulically driven demand cooling fan
Hydrostatic transmission with electronic speed range control
Lubed for life driveshafts
Parking brake, electric
Single plane cooling system with remote coolant reservoir
S•O•S port, engine, coolant and transmission oil
Thermal starting aid (glow plugs)
Throttle lock
Transmission directional control on implement joystick
Transmission sight gauge
Transmission oil cooler

HYDRAULICS

Heavy duty hydraulic cooler
Hydraulic diagnostic connectors and S•O•S
Hydraulic sight gauge, visible
Load sensing hydraulics and steering
Seat-mounted hydraulic controls with F/N/R

ELECTRICAL

Alternator, 115-amp, heavy duty
12V power supply in cab (2)
Batteries, 1,000 CCA (2)
24 volt system
Back-up alarm
Battery disconnect switch
Beacon ready
Diagnostic connector
Directional signals front and rear
Emergency shutdown switch
Halogen work lights front and rear
Heavy duty gear reduction starter
LED rear stop tail turn lights
Remote jump start post
Resettable main and critical function breakers
Roading lights front and rear

OPERATOR ENVIRONMENT

75 mm (3 in) retractable seatbelt
Automatic temperature control
Cab, enclosed ROPS/FOPS pressurized and sound suppressed
Cup holder
External heated mirrors
Ground level cab door release
Gauges: • Digital direction indicator • Digital hour meter and odometer • Digital speedometer • Engine coolant temperature gauge • Fuel level indicator • Hydraulic oil temperature gauge • Tachometer
Hydraulic control lockout
Interior cab lighting, door and dome
Interior rearview mirrors (2)
Lunch box storage
Operator warning system indicators
Radio ready speakers
Rear window defrost, electric
Removable floormat
Seat-mounted electronic implement controls, adjustable
Sliding glass on the side windows
Steering column mounted multi function control - lights, wipers, turn signal
Suspension seat, fabric
Tilt and telescopic steering wheel
Tinted front glass
Wet arm wiper/washer, 2-speed and intermittent, front
Wet arm wiper/washer, rear

OTHER STANDARD EQUIPMENT

Automatic bucket/fork positioner, adjustable in-cab
Automatic lift and bucket kickouts, adjustable in-cab
Fenders
Large-access enclosure doors with adjustable close/open force
Parallel lift loader linkage with sealed pins
Recovery hitch with pin
Remote mounted lubrication points
Toolbox, lockable
Vandalism protection - lockable compartments

EU STANDARD EQUIPMENT

Deluxe cab
Secondary display
Rearview camera
Optional Equipment
Antifreeze/coolant, extended-life, protects to -50° C (-58° F)
Axles, differential, limited slip, rear
Beacon light, rotating or strobe
Cab, deluxe includes (standard in Europe, optional in North America):

Automatic blower control
Electrically adjustable external heated mirrors (2)
LED interior lighting
Secondary display
Visor

Camera, rearview (standard in Europe)
Cold start package:

Ether starting aid
Block heater
Additional batteries (2)

Counterweight, heavy
Counterweight, logger
Coupler, Fusion
Coupler, ISO 23727
Coupler, jumper lines, third function
Debris package
Debris package - cleaning arrangement
Fenders, roading
Fenders, full coverage
Guards

Power train, lower
Power train, side
Crankcase
Driveshaft
Windshield

Hydraulic control auxiliary, third and fourth function
Jumper lines, third function
Linkage, high lift
Lights, auxiliary, halogen or HID
Machine Security System
Product Link
Radio packages:

Radio ready with Bluetooth interface, microphone and auxiliary inputs for MP3 players
Radio, AM/FM with CD player
Radio, AM/FM with CD player deluxe, Bluetooth interface, microphone and auxiliary inputs for MP3 players

Ride Control System
Seats:

Deluxe seat - fully adjustable fabric air suspension seat with high seat backrest
Premium seat - fully adjustable heated fabric air suspension seat with high seat backrest and lumbar support

Steering:
Tires:

Bias ply, 20.5-25
Radial, 17.5 R25, 20.5 R25, 550/65 R25, 650/65 R25
Flexport
Skidder/Agriculture

Toolbox, additional
Work tools
Specs
Long Name:
938K Wheel Loader
Rated Net Power:
169.0 hp / 126.0 kW
SAE J1349:
169.0 hp / 126.0 kW
ISO 9249 (1997):
170.0 hp / 127.0 kW
EEC 80/1269:
170.0 hp / 127.0 kW
Displacement:
402.0 in3 / 6.6 L
Net Torque:
591.0 ft-lb / 802.0 N·m
Operating Weight:
35104.0 lb / 15928.0 kg
Bucket Capacities:
2.5 m3 - 5.0 m3 3.2 yd3 - 6.5 yd3
Wheelbase:
10.0 ft / 3050.0 mm
Height to Top of ROPS/FOPS:
10.9 ft / 3340.0 mm
Height to Center of Axle:
2.16 ft / 685.0 mm
Ground Clearance:
1.25 ft / 386.0 mm
Overall Length:
25.1 ft / 7656.0 mm
Length - Rear Axle to Bumper:
6.4 ft / 1963.0 mm
Center Line of Front Axle-Hitch:
5.0 ft / 1525.0 mm
Wheel Base Length:
10.0 ft / 3050.0 mm
Dump Clearance-Max Lift-45°:
9.25 ft / 2834.0 mm
Bucket Pin Height at Max Lift:
13.0 ft / 3969.0 mm
Overall Height - Bucket Raised:
17.25 ft / 5273.0 mm
Reach at Max Lift and 45° Dump:
3.75 ft / 1146.0 mm
Rack Back Angle at Max Lift:
54.0 Degrees / 54.0 Degrees
Dump Angle at Max Lift:
49.0 Degrees / 49.0 Degrees
Rack Back Angle at Carry:
45.0 Degrees / 45.0 Degrees
Carry Height:
1.5 ft / 467.0 mm
Digging Depth:
3.9 in / 101.0 mm
Static Tipping Load (Full Turn):
20997.0 lb / 9527.0 kg
Reach - full lift/45 degree dump angle:
3.75 ft / 1146.0 mm
Dump clearance - Full lift/45 degree dump angle:
9.25 ft / 2834.0 mm
Articulation Angle:
40.0 Degrees / 40.0 Degrees
Hydraulic Cycle Time:
9.7 Seconds / 9.7 Seconds
Pump flow - Implement pump:
50.0 gal/min / 190.0 L/min
Maximum working pressure:
4061.0 psi / 28000.0 kPa
Hydraulic cycle time::
9.7 sec
Raise:
5.5 Seconds / 5.5 Seconds
Dump:
1.5 Seconds / 1.5 Seconds
Lower, empty, float down:
2.7 Seconds / 2.7 Seconds
Total:
9.7 Seconds / 9.7 Seconds
Stroke:
31.1 in / 789.0 mm
Stroke:
21.9 in / 555.0 mm
Size:
20.5 R25, radial (L-3)
Steering Articulation:
40.0 Degrees / 40.0 Degrees
Steering angle, each direction:
40.0 Degrees / 40.0 Degrees
Steering cylinders, two, bore:
3.1 in / 80.0 mm
Maximum working pressure:
3500.0 psi / 24130.0 kPa
Standard transmission max travel speeds::
25.0 mph / 40.0 km/h
Forward 1:
8.0 mph / 13.0 km/h
Reverse 1:
8.0 mph / 13.0 km/h
Service Refill Capacities
Fuel tank:
51.5 gal / 195.0 L
Cooling system:
7.9 gal / 32.0 L
Crankcase:
5.3 gal / 20.0 L
Transmission:
2.9 gal / 11.0 L
Hydraulic system (including tank):
44.9 gal / 170.0 L
Hydraulic tank:
23.8 gal / 90.0 L
ROPS:
SAE J1040 MAY94, ISO 3471-1994
FOPS:
SAE J/ISO 3449 APR98 Level II, ISO 3449 1992 Level II
Features
Parallel Lift Loader Linkage
Optimized Z-bar linkage delivers enhanced visibility with maximum productivity.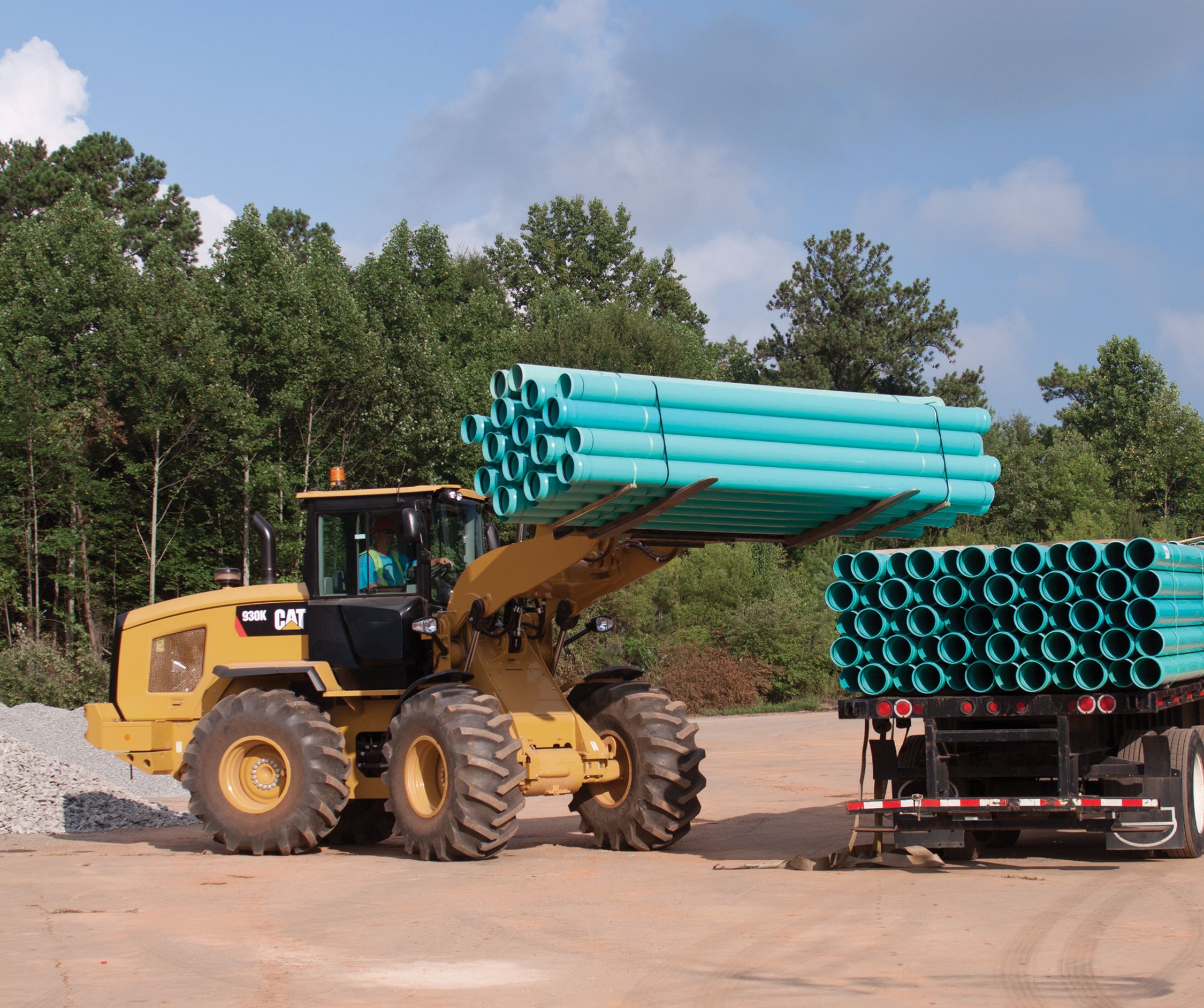 Optimized Z-bar Linkage
The new optimized patent-pending Z-bar linkage combines the digging efficiency of a traditional Z-bar with tool carrier capabilities for great performance and versatility.
Parallel lift and high tilt forces throughout the working range help you safely and confidently handle loads with precise control.
Linkage features excellent visibility to the bucket cutting edge and fork tips.
High Lift version is also available.
Industry Leading Operator Station
Superior visibility, ergonomics and comfort.
Best Seat on the Job Site
Enjoy all day comfort in the spacious new K Series cab:
Extremely low sound levels.
Superior visibility to the work tool due to wide curved windshield, redesigned Z-bar linkage, lines routing and work tool design.
Automatic climate control.
A heated and ventilated seat option is available for added comfort in a wide range of climates.
Seat-mounted, ergonomic joystick for lift and tilt functions. Joystick includes integrated Forward/Neutral/Reverse switch, differential lock trigger and optional third and fourth function auxiliary hydraulics.
Easy access to the cab with ergonomically placed grab rails, walk-up steps and large platform.
Easy to Use Instrument Panel and Display
An optional* secondary display provides easy access to vital machine parameters and works in conjunction with the standard soft touch panel to allow real time adjustments.
Machine information and diagnostics at a glance.
Real time and historic fuel usage.
Backup camera display.
Help button plus 22 language capability.
Adjustment of functions such as creep, third function flow, throttle and rimpull.
*Standard feature in Europe.
Power Train
Maximum machine power, reduced fuel consumption.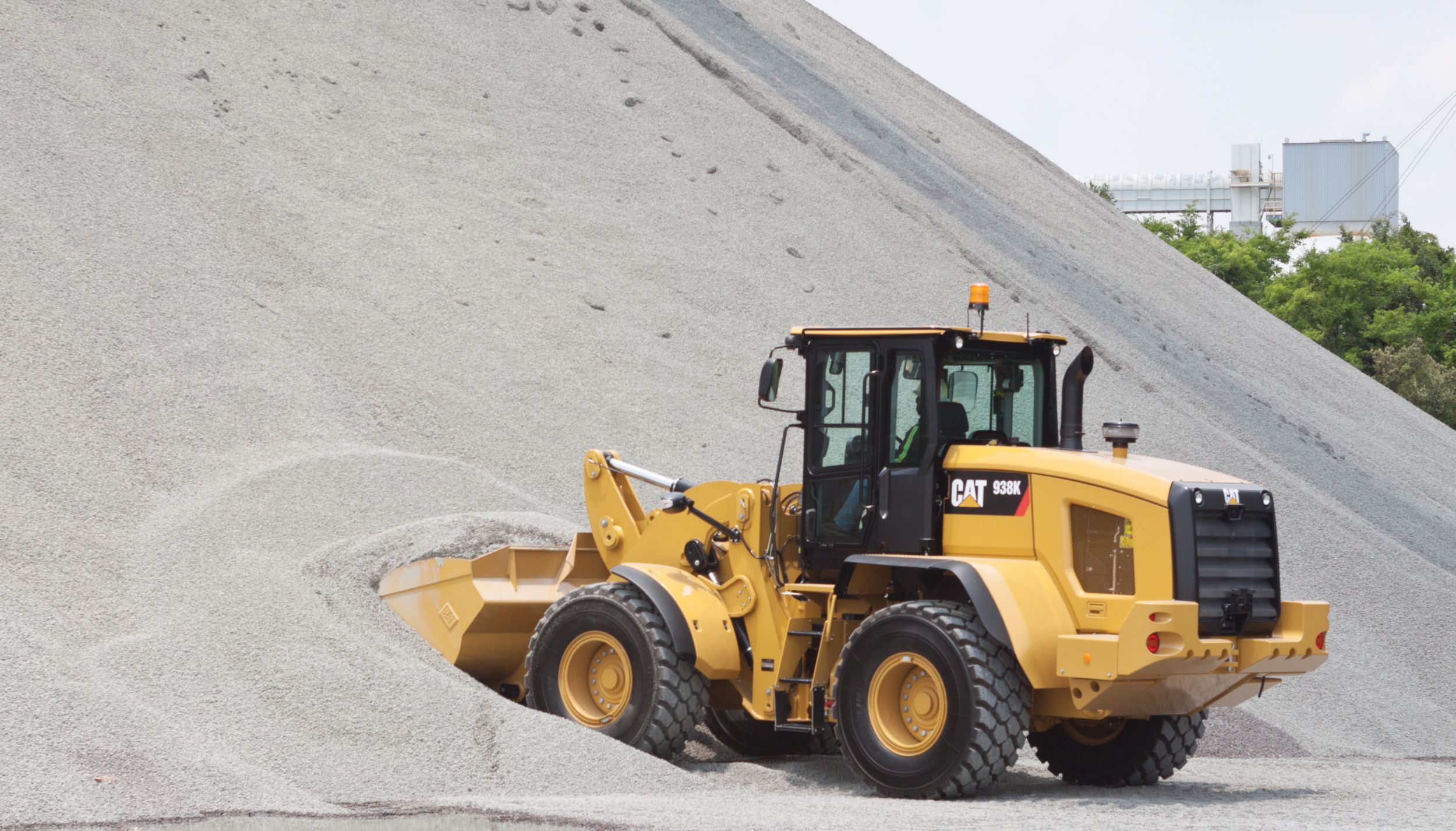 Intelligent Power Management
The Caterpillar exclusive Intelligent Power Management system actively monitors operator input and power availability to keep the machine working at peak efficiency.
Engine
The Cat® C6.6 ACERT™ engine provides cleaner, quieter operation while delivering superior performance and durability. The engine meets U.S. EPA Tier 4 Interim and EU Stage IIIB emission requirements. Maximum engine speed is now 1,800 rpm for reduced fuel consumption and lower sound levels. The engine also features:
Passive regeneration system - designed to manage itself so you don't have to.
Diesel particulate filter that is matched to the anticipated engine overhaul life.
Class-leading fuel efficiency, significantly reducing owning and operating costs.
Configurable auto idle shut down feature as standard equipment.
Transmission
A smooth, step-less electronically controlled hydrostatic transmission provides adjustable power to the ground and superb groundspeed control for a multitude of tasks.
Four speed ranges ensure maximum controllability for any task.
Rimpull control enables you to match available tractive power to underfoot conditions, helping reduce tire wear.
Creeper control lets you adjust machine groundspeed when using work tools such as brooms, snow blowers and brushcutters.
Throttle lock feature allows you to maintain constant engine RPM regardless of machine speed.
Axles and Brakes
Fully locking front differential axles are standard and can be engaged at full torque on the go with a button on the joystick. Limited slip differentials are optional on the rear. Brake system includes independent service brakes on front and rear axles and a spring applied, electronically activated park brake.
Hydraulics
Smooth, efficient operation helps you get the job done faster.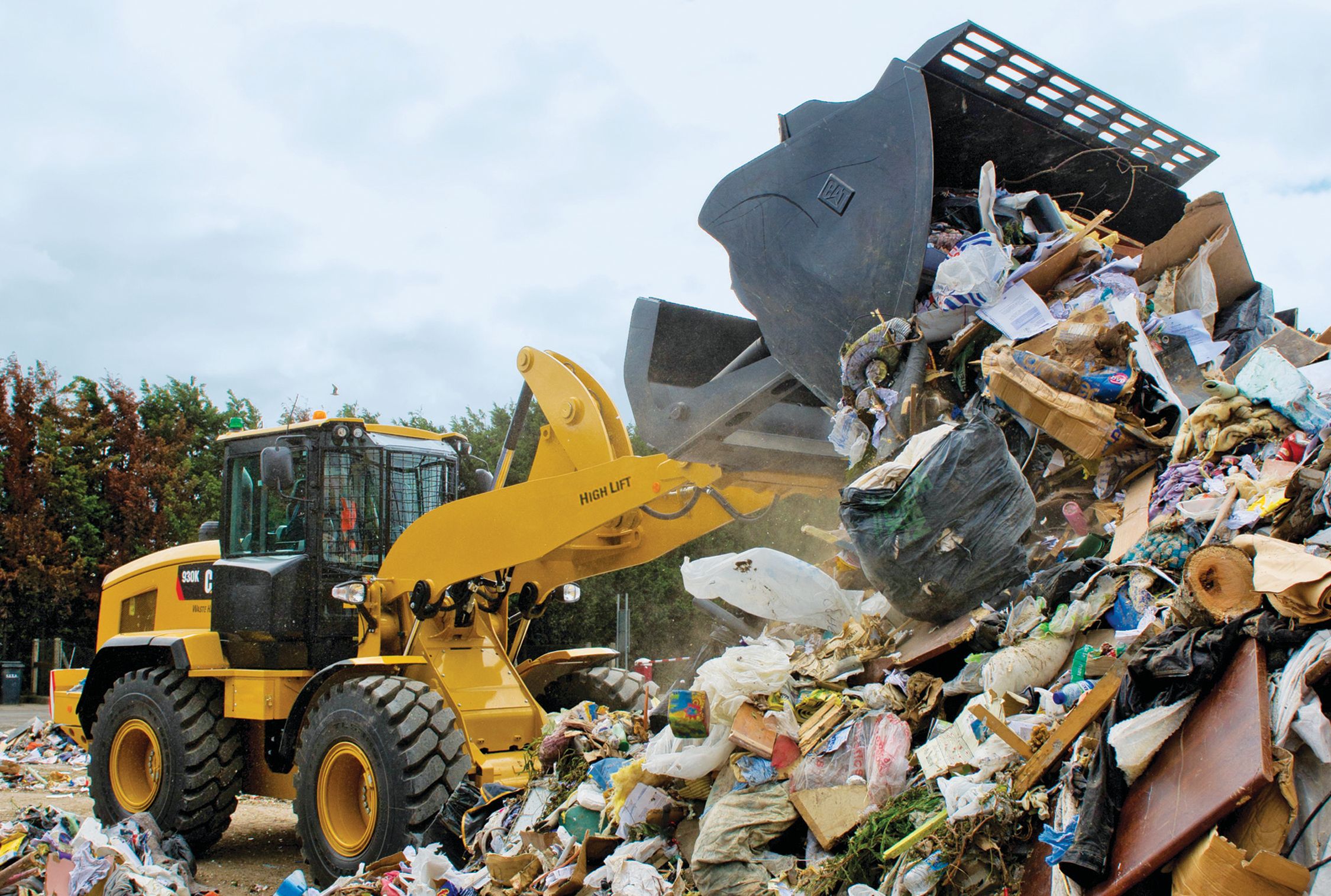 Load-Sensing Hydraulic System
K Series machines feature a new electro-hydraulic control system that is governed by the Intelligent Power Management system. The load-sensing, variable flow system senses work demand and adjusts flow and pressure to match. This allows full hydraulic forces at any engine speed.
Programmable in-cab kick-outs are easy to set on the go for tilt, lower and lift. This feature is ideal for applications where the work cycle is repeatable.
Caterpillar exclusive electro-hydraulic snubbing at programmed kickouts and rack/dump stops greatly improves operator comfort and component life in addition to improved material retention.
Adjustable third function flow through the secondary display (when equipped) for use with hydro-mechanical work tools.
Optional Ride Control System provides an even smoother ride and excellent material retention.
Designed with dedicated pumps for steering and implements so there is no compromise in cycle times and effi ciency for multi-function operation.
Work Tools
Do more jobs with one machine.
The Right Tool for the Job
An extensive range of work tools and bucket styles are available to make your Cat Wheel Loader one of the most versatile machines on the job site.
Performance Series Buckets
Performance Series Buckets utilize a system-based approach to balance bucket shape with the machine's linkage, weight, lift and tilt capacities. They deliver higher fill factors and better material retention for significant productivity and fuel efficiency improvements. The buckets feature a longer floor, open throat and curved side bars.
Additional Buckets
Light Material
Multi Purpose
Sand and Gravel
High Dump
Wood Chip
Material Handling Work Tools
Pallet Forks
Construction Forks
Material Handling Arm
Work Tools for Special Applications
Dozer Blades
Snow Plows
Brooms
Rakes
Log and Lumber Forks
Pipe and Pole Forks
Side Dump Buckets
Grapple Buckets
Grading Buckets
Couplers
The Cat Fusion™ interface provides coupler flexibility without compromise in breakout force and dump clearance. The advanced wedging mechanism creates a tight, rattle-free fit, eliminating play and wear for long service life. The open coupler frame design provides excellent line of sight to the work tool. An ISO 23727 coupler interface is also available for use with competitive work tools.
Options
Customize your machine to meet your needs.
Configure the Machine the Way You Want It
A variety of options are available on the Cat K Series Wheel Loaders to suit your specific application needs. See your Cat dealer for more information about the features below and additional options.
Coupler Options
High Lift Linkage
Counterweight Options
HID Lights
Turbine Precleaner
Rear Camera in Grill
Guards
3rd and 4th Function Hydraulics
Additional options include:
Power Train Side Guards
Driveshaft Guard
Rear Waste Gate
RESPA Cab Filtration
Lower Power Train Guard
Crankcase Guard
Full Coverage Fenders
Optional Toolbox
*Standard equipment in Europe.
Serviceability
Easy service to keep your machine working.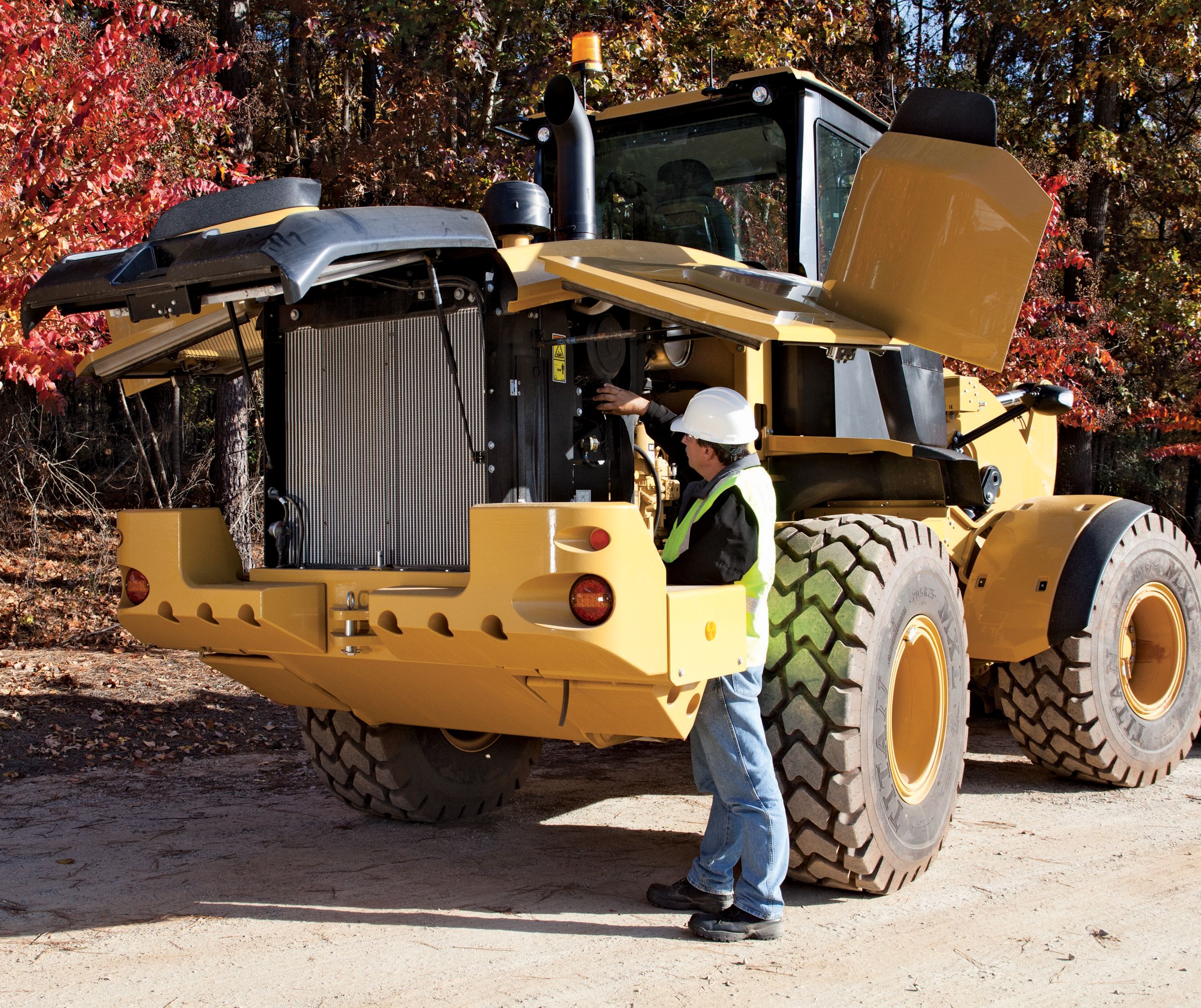 Easy Service Access
All service points are accessible from ground level. Three large service doors can be opened and closed in any order to give full access to filters and service points. Extended service intervals reduce service time and maximize uptime. Additional service features include:
Diesel particulate filter that is matched for anticipated engine overhaul life. Passive regeneration system requires no operator interaction.
Caterpillar exclusive electric fuel priming pump.
Jump start studs as standard equipment.
Single plane cooling system with 6 fins per inch coolers as standard.
Swing-up air conditioner condenser for easy clean out.
Product Link ready (standard).
Customer Support
Unmatched support makes the difference.
Renowned Cat Dealer Support
Your Cat dealer is ready to help you every step of the way. From new or used machine sales, to rental or rebuild options, your Cat dealer can provide an optimal solution to your business needs. Unsurpassed worldwide parts availability, trained technicians and customer support agreements maximize your machine uptime.