SH640 D – Roof Support Carrier
The right roof support for any longwall application.There are few roof support carriers rated at 40 tonnes (44 tons) capacity. Only one carries this load at these speeds while maintaining flexibility and a small roadway presence. The SH640 D is a compact yet powerful roof support carrier that negotiates tight bends as well as steep gradients and uneven floor conditions. The compact Cat SH640 D diesel roof support carrier was developed to suit cramped mine conditions. It carries a massive 40 tonnes (44 tons) on standard forks. The design focuses on haulage of longwall roof supports and heavier ancillary components of the longwall.
Optional Equipment
Specs
Features
Media
Optional Equipment
Load indication gauge system
Cat 3126 DTI flame proof package
Fire suppression systems
ROPS/FOPS certified canopy
Tow chains
Wheel chains
Alternative approved electrical components (lights, alternators, hour meters etc.)
Exhaust flame trap (optional) wet, standard for China, standard for RSA
Auto lubrication system
Chock carry plate
Power assist trailer connection and fixed fifth wheel plate
12V electrical system STD 3126 DTI
Specs
Long Name:
SH640 D - Roof Support Carrier
Carry Capacity:
44.0 tons / 40.0 tonnes
Vehicle Length:
30.18 ft / 9.2 m
Vehicle Width:
8.69 ft / 2.65 m
Frame Oscillation:
8.0 Degrees / 8.0 Degrees
Gradients Possible (gradient data short-term only):
14.5° continuous
Ground Clearance:
13.7 in / 350.0 mm
Maximum Speed:
11.8 mph / 19.0 km/h
Maximum Speed with Load:
5.0 mph / 8.0 km/h
Power Rated at:
234.0 hp / 172.0 kW
Pull Winch Rated at:
20 tonnes (22 tons)/30 tonnes (33 tons)
Steering Articulation:
45.0 Degrees / 45.0 Degrees
Torque/Tractive Effort:
62832.0 lb / 28500.0 kg
Turn Radius (outside):
20.34 ft / 6.2 m
Wheel Base:
11.81 ft / 3.6 m
Speeds, Forward and Reverse:
4
Voltage:
24.0 volts / 24.0 volts
Rated Speed/Un-Laden/No Grade
1st Gear:
1.8 mph / 2.9 km/h
2nd Gear:
3.8 mph / 6.1 km/h
3rd Gear:
6.5 mph / 10.5 km/h
4th Gear:
11.3 mph / 18.1 km/h
Application:
Spring Applied, Hydraulic Released
Type:
Totally Enclosed, Wet Type
Front Axle:
Heavy Duty Fixed
Rear Axle:
Heavy Duty Trunnion Mount
Laden Front:
192.0 psi / 1330.0 kPa
Laden Rear:
72.0 psi / 500.0 kPa
Un-laden Front:
72.0 psi / 500.0 kPa
Un-laden Rear:
109.0 psi / 753.0 kPa
Aftertreatment:
Catalytic Exhaust Purifier
Exhaust Filter:
Replaceable Element except China
Exhaust Flame Trap:
Replaceable China and RSA
Maximum Laden:
178574.0 lb / 81000.0 kg
Unladen with Full Tanks:
90390.0 lb / 41000.0 kg
High Idle:
2300.0 RPM / 2300.0 RPM
Low Idle:
800.0 RPM / 800.0 RPM
At Full Power:
10.4 Gal/hr / 39.4 L/hr
Average Mine Duty:
20-40 L/hr (5.3-10.5 gal/hr)
Degrees of Turn Either Side:
45 degree
Axle Oil (Each):
15.9 gal / 60.0 L
Drop Box Oil:
2.1 gal / 8.0 L
Engine Cooling System Water:
19.0 gal / 72.0 L
Engine Crankcase Oil:
6.6 gal / 25.0 L
Fuel Tank:
92.4 gal / 350.0 L
Hydraulic Tank:
118.9 gal / 450.0 L
Main Air Receiver:
5.3 ft3 / 150.0 L
Transmission/Converter Oil:
10.6 gal / 40.0 L
Water Make Up Tank:
118.9 gal / 450.0 L
Capacity of Tow Hitch:
88184.0 lb / 40000.0 kg
Lift SAE @ 600 mm (23.6 in) from Fork Face:
88184.0 lb / 40000.0 kg
Maximum Un-braked Trailer Mass:
44092.0 lb / 20000.0 kg
Tractive Effort, Maximum:
61729.0 lb / 28000.0 kg
Winch (Front):
44092.0 lb / 20000.0 kg
Type Protective Device:
MDG1
System Type:
Cat DCS Electronic, Intrinsically Safe Approved
Application:
Spring Applied, Hydraulic Released
Type:
Totally Enclosed, Wet Type
Cooling Fan:
Hydraulic Driven Fan
Cooling System:
Coolant Based Radiator
Displacement:
439.3 in3 / 7.2 L
Engine Make/Model:
Cat® C7
Maximum Power Gross:
171.5 kW (230 hp) @ 2,200 rpm
Maximum Torque Tested:
895 N·m (660 lb-ft) @ 1,700 rpm
Radiator Position:
Vertical Rear
Type:
Diesel, Turbocharged
Size:
1371 mm O/D × 559 mm Wide (55 in O/D × 22 in Wide)
Degrees Up and Down from Horizontal:
6 degree
Number/Location:
STD 2 Front, 2 Rear
Features
Diesel for Endurance
Cat diesel roof support carriers incorporate the most efficient engines and powertrains available while boasting the lowest level of general body air emissions amongst underground diesel vehicles. Many proprietary developments - such as dry scrubber and wet bath exhaust systems with diesel particulate filtration and horizontal or vertical configuration cooling radiators - make Cat diesel roof support carriers a safe and powerful solution for your longwall move. They can move any roof support over any distance and over various roadway conditions with speed and efficiency.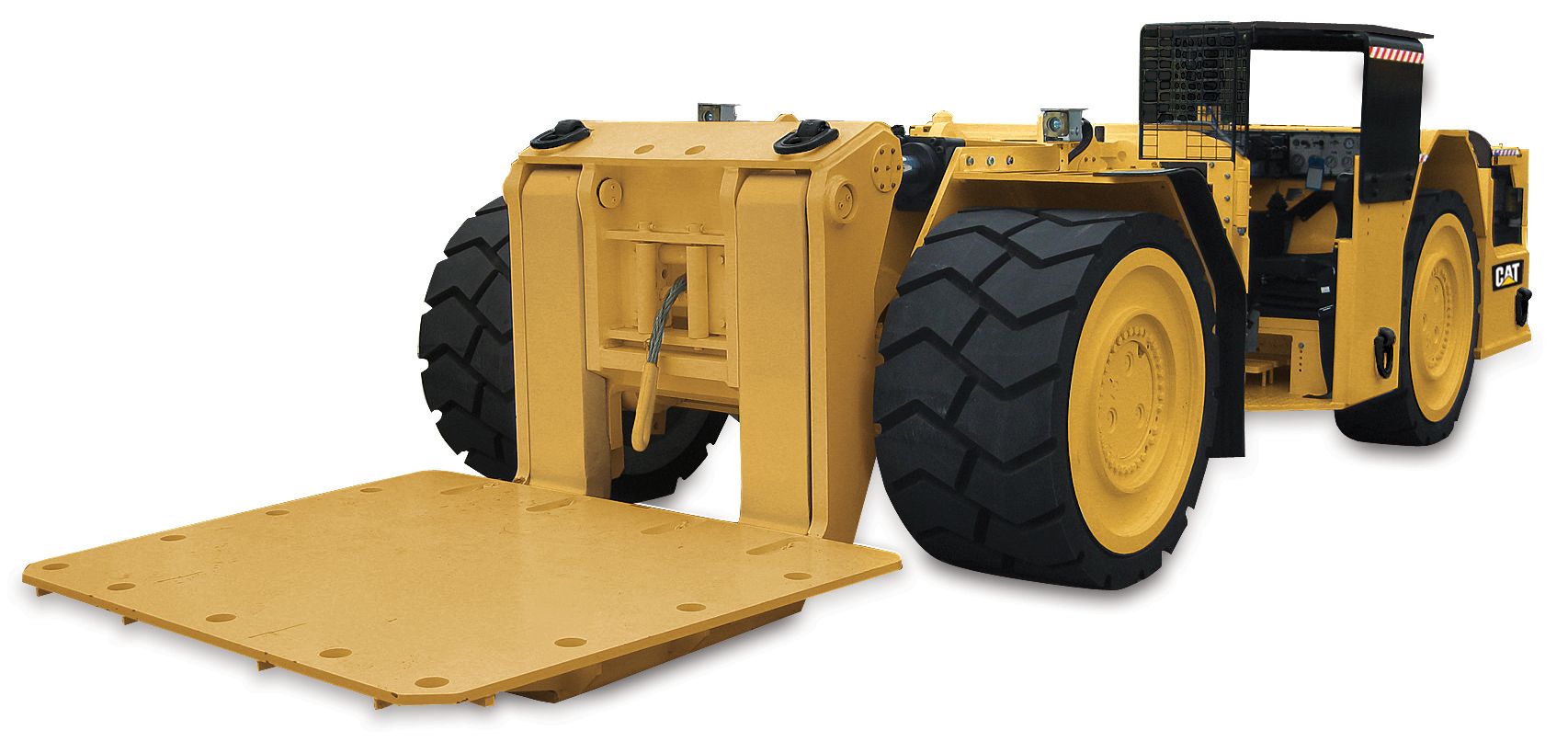 Proven Yet Improved
Cat diesel vehicles across the product range share industry-proven drive units; diesel engines and other major components from the world's leading OEM manufacturers. We combine this with our own expertise in developing low-emission solutions:
Particulate filtration system
Inline purifier catalytic converter
Zero-smoke dry particulate exhaust system
New wet scrubber exhaust system
Posistop brakes for extra safety
Positorque axles for superior traction
4-speed power shift transmission for smooth operation
The Power You Need
A combination of Cat battery- and diesel-powered vehicles can offer the ideal solution for longwall installations and moves.
Diesel-powered roof support carriers carry your roof supports the full distance at maximum speed and lowest cost. Diesel equipment is a good option for new longwall installations as they do not require electrical infrastructure such as cabling and charging stations and can operate at higher speeds over long distances, up steeper gradients and over rougher terrain - conditions not suitable for battery-powered vehicles.
Diesel Power for the Long Haul
Diesel-powered equipment is used in nearly all underground mines in various tasks and functions around the world.
There are many technical features of Cat diesel vehicles that make them unique in the underground mining industry. Their general body air emissions are one of the lowest in the field, and the fact that they are compact, powerful machines with a small roadway presence and the capability to be used for multiple tasks means a high return on investment.
Flexibility
Cat diesel-powered roof support carriers offer independence and flexibility when you need it most - during longwall moves and reinstallation.
The four-wheel drive and rear engine arrangement are designed to offer high stability and high tractive effort whether loaded or unloaded on the roadway or installing roof supports at the longwall face.
RAS - Rapid Attachment System
The Rapid Attachment System available for the CL10 and CL15 makes an accessory change a one-man operation, allowing a broad range of accessories to be fitted in moments without removing the backing plate. Utilizing the LHD with RAS attachments during longwall relocations can greatly reduce lost production time.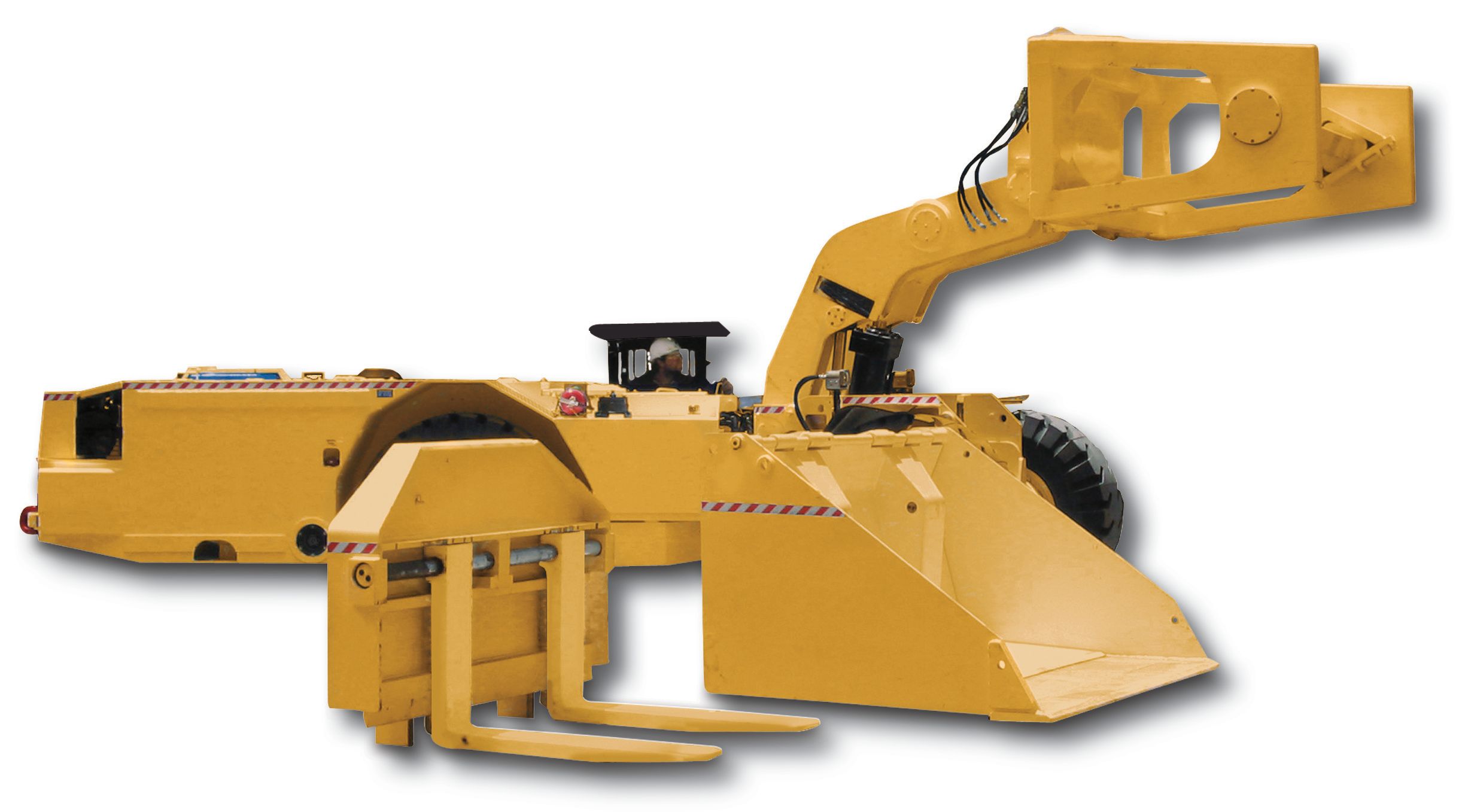 Each attachment is tested and performance rated.
Ejector plate bucket
Side shift forks
AFC chain reeler
Belt reeler
Cable reeler
Jib crane [static and slewing]
Work baskets
Fuel and lubrication module
Materials pod system
Concrete hopper